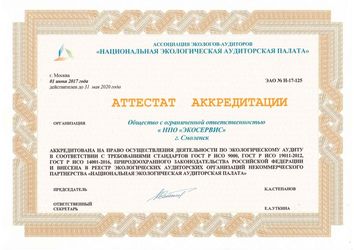 "ECOSERVICE" staff have been successfully cooperating with natural resources users for more than 10 years helping them to organize environmentally safe and economically feasible environmental activity system at the enterprise.
"ECOSERVICE" specialists perform develop "Actions list for environment protection" as a part of project documentation. All developed projects pass coordination with supervisory authorities
The company " EKOSERVIS " containers for graphical member of the National Environmental Audit Chamber ( NEAP ) and the Russian Ecological Union .